Research Institute
at Medical University of Plovidv
Integrative and creative
Researcher:

Chief Assist. Prof. Georgi Iliev Amaliev, MD, PhD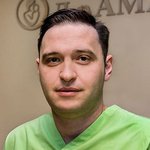 Research Division:
Workplace:
Medical Simulation and Training Center, MU Plovdiv; University hospital "Selena"
Portfolio:
2006 – Graduated Medical University – Plovdiv with Honors
2012 – Acquired Obstetrics and Gynecology Specialty
2013 – Defended PhD degree on topic "Fibrinolytic changes in preeclampsia and spontaneous abortion
Working as a medical doctor in obstetrics and gynecology in University Hospital "Selena" – Plovdiv
Member of Bulgarian Association of Obstetrics and Gynecology
Member of International Society of Ultrasound in Obstetrics and Gynecology
Selected Publications:
1.Amaliev G, Uchikova E, Pehlivanov B, Parahuleva N, Amaliev I. The vitamin D deficiency--an independent risk factor for developing preeclampsia
Akush Ginekol (Sofiia). 2014;53(8):15-7.
2.Amaliev G, Malinova M, Pehlivanov B, Ismailov N, Parahuleva N. Twin reversed arterial perfusion sequence in monochorionic pregnancy - two clinical cases
Akush Ginekol (Sofiia). 2014;53 Suppl 1:40-2.
3. Amaliev G, Uchikova E, Dimitrakova E, Amaliev I, Mladenova M. CALCIUM LEVELS IN URINE SAMPLE IN PREGNANT WOMEN WITH PREECLAPMSIA
Akush Ginekol (Sofiia). 2016;55(3):26-8.
4.Amaliev GM, Uchikova E, Malinova M. CHRONIC RENAL FAILURE AND PREGNANCY--A CASE REPORT
Akush Ginekol (Sofiia). 2015;54(3):40-2.
5. Amaliev G. M. Malinova, B. Pehlivanov, H. Ivancheva. A Case of TRAP Sequence with Immense Acardiac Twin. Folia Medica. 2014, 56, 129-133.