Research Institute
at Medical University of Plovidv
Integrative and creative
Researcher:

Chief Asst. Prof. Okan Aliman, MD, PhD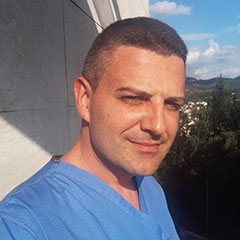 Research Division:
Workplace:
Medical Simulation and Training Center, MU Plovdiv;
Portfolio:
Dr Aliman graduated from Medical University of Plovdiv in 2000 and starts his fellowship in Cardiology. After completing his residencies, he is recognized as a specialist in both Cardiology and Internal Diseases.
Since 2010, Dr Aliman is certified Invasive Cardiologist. Pursuing his professional development, he manages to participate in numerous academic activities, including journal publications and scientific presentations. In 2008 Dr Aliman is awarded a PhD in Cardiology and becomes an assistant professor at the Medical University.
His international experience is gathered by attending miscellaneous courses held in Europe and USA, moreover, in 2017 he works as a cardiologist in the UK. During his stay in the NHS, he is trained and certified in ALS and also as a medical educator at the Nottingham University.
Presently, Dr Aliman continues with his academic role as a senior assistant professor at the Medical University of Plovdiv.
Selected Publications:
1. Aliman O, S Kostianev, Nikolov F, Djurdjev A. Pulmonary complications with amiodarone treatment. Bulgarian Cardiology 2003; 3: 55-60.
2. Aliman O. The Six-minute Walk Test in the Diagnosis and Rehabilitation of Patients with Chronic Heart Failure Folia Medica 2008; L(4): 83-85.
3. Marinov B, Aliman O, Tokmakova M, Terziyski K, Kostianev S. Effect of two modes of exercise training on cardiopulmonary function in patients with left ventricular dysfunction. 17th Annual Congress of ERS, Stockholm. Eur Respir J. 2007; 30: Suppl. 52: 327. IF =4.95.
4. Manukov I, Aliman O, Tonev G, Tsvetkovski T, Deenichina I, et al. Effectivenes of percutaneous Balloon Pericardiotomy in Patients with Pericardial Effusion. J Vasc Interv Radiol 2009; 20; 12: 1656-1657.
5. Papathanasiou J, Troev T, Tokmakova M, Aliman O, Nikolov F. Current aspects of exercise training. Military Medicine. 2013; LXV 1-2: 16-19.